I Need a Mommy
I Need a Mommy Review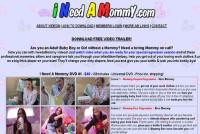 This is probably one of the most bizarre porn sites I have ever seen, if it can be even catagorised as such. It's more of a regression aid than anything. The target audience is people into the ABDL niche, adult baby / diaper lover. Specifically, as the site states, it's for adult babies that don't have a mommy or someone they can count on to play the mommy role. Thus these videos were born, to emotionally help those poor mommy-less guys regress, be put into diapers and talked to like a drooling, helpless infant!! - Visit "I Need a Mommy"
Score: 95.0%
The tour is very simple and straightforward. As of this review the site only has 6 mommy scenarios, each very well described as to what type of mommy she is like, mean, nice or punishing. More mommy scenarios are definately needed but for the non-recurring one time sign up fee, it's actually a pretty good deal for what you get plus the bonus videos. Since the videos are such a specialised thing, adult babies looking for regression videos should be pretty happy as I have not seen another site like this out there. - Visit "I Need a Mommy"
The videos are downloadable with no DRM, in MPEG format and encoded at 1500KBPS at 640x480. There are no pictures with the videos. The download speed is good and the videos run between 9-16 minutes for each scene. I'd like to see longer videos, since it takes time for the Mommy to set the mood and get into character. The mommies are fairly good at what they are doing, some better than others. Scenarios covered are: messing your pants and getting yelled at by mommy, who then forces you to wear diapers and dress like a baby & nice caring mommies who help you regress after a long day at work. The mommies talk directly to the camera like you are the one getting diapered and makes all the motions of doing the actions ie. taking off your pants or fastening your diaper.
The one thing that would make this site killer is to feature more mature ladies as the "mommies" and to introduce breast feeding. Oh, and more diaper punishment! - Visit "I Need a Mommy"
Bonus Content
The members area surprisingly offers a lot of free video feeds from DVD studios in all different niches. From pornstars to facials to the fetishy stuff like latex, S&M and female domination. Pretty much any of your other fantasies can be fulfilled in the "mega feeds" streaming videos that will keep you busy for hours. There is also 3 bonus full "reality" genre sites including one gay site for the curious. Finally there are several recommended sites and a few naughty adult games like strip blackjack and memory.
Comments
#1
by
Konrad
Date:
2008-11-19 20:44:12
This is a comment.